Our last trip out before the end of the season
I (Mark) thought I'd try and get a quick blog post up about our last trip out before the end of the ski season – but as usual, a quick post becomes one that you never get around to doing! We always try to get out a couple of times throughout the ski season with my brother and his partner and managed a few days in January then a few in March this year. My fiancé Lindsey (also a member of team 'ProBalm') prefers the skis, whilst I'm definitely a snowboarder. I seem to have gotten a bit better recently and managed a black run on the first day. The trip as a whole was pretty un-incidental – there weren't any major crashes or anything (and Lindsey didn't fall off a chair lift this time) but here's what did happen!
Day 1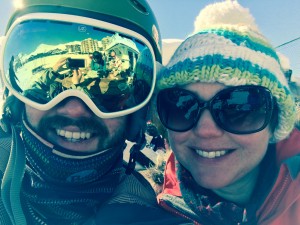 The trip started with a pretty early start… 1am on a Sunday morning! We flew from Manchester to Lyon and then took on the 220km drive through Chambéry, Albertville and Moutiers; followed by the mountain road up through Saint Martin to Les Menuires. We arrived at about midday and headed straight to the bar for a few beers. Throughout the afternoon, it started to dump snow which continued throughout the night meaning we were all excited for Mondays powder!
Day 2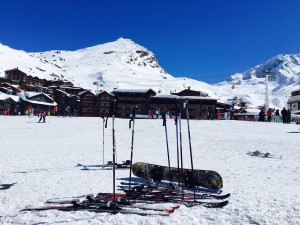 Monday morning arrived, and as expected – the powder was immense. We got kitted up (ProBalm and all) and headed out early to take advantage of the powder, and our 3 Vallees ski passes. We saw our fair share of snow covered beards and our snow skirts were a must. Despite staying fairly local, we managed to do about 25 miles; mostly on the blue and green runs around Le Menuires, Mont de la Chambre and Brunye.
Day 3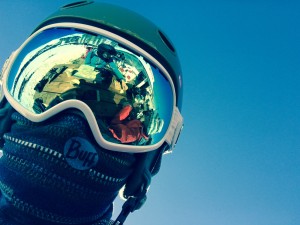 On the 3rd day, the weather wasn't so good. It was quite low light and cloudy – so Lindsey opted to stay in and hit the laptop. She missed a treat! The powdery conditions continued so we opted to do some off piste messing around with a few small jumps. We headed across the mountain and over to Meribel and did the Courchevel 1650 and some runs around there down towards La Tania.
Day 4 & 5 – much of the same.
Day 6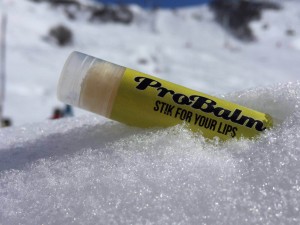 On the Friday; we hit Val Thorens, which is pretty high up. Not only was it busy – the wind chill factor was one of the worst we've experienced. So much so that Lindsey resorted to using ProBalm all over her face before and after venturing out (It worked a treat!)
Day 7
On our final day – we skied over to Courchevel 1850 around the Altiport are. We managed about 25 miles again and went down the rollers in the family park in between watching a few of the guys doing the DC 43 halfpipe dropping in for some tricks and stuff.
We finished off the day with a Racklette – which for those of you that don't know is basically half a cheese that's melted under a heat lamp, obviously really bad for you… but delicious! It's served with meats and bread which were equally bad (but so good) and set us up for the journey home.
The main highlight for me, was that I've actually got loads better this time! I think my top speed was about 33mph. Next to the skiers, it looked like I wasn't moving (they were speeding past me at a casual 53mph) but to me it felt like I was flying! Fingers crossed this continues next season… we'll definitely be back!